Amazing experiences await anglers in St. Thomas! Go offshore fishing in pursuit of Marlin, Sailfish, Dolphin Fish (Mahi-Mahi), Wahoo and Tuna. Or try your luck getting a bite and reeling in some Kingfish, Barracuda, Bonito, Jacks or Yellowtail Snapper while inshore fishing.
Wondering when the best time of the year is to come to St. Thomas and haul in that big catch you can go home and talk about for years! The short answer is that some species are around all year and others have peak seasons. Fishing charter operators and captains are knowledgeable about the islands' waters and seasons. They can provide information on what you might find on the end of your line when you go out fishing with them during your St. Thomas vacation.

Water's Edge Sports
Featured Fishing Charter
(340) 771-7356
Let's go fishing! Spend the day fishing aboard one of our fast and comfortable 31' Stamas Sport Fishing boats. They are roomy, have a bathroom, freshwater shower, ice chest and stereo. Inshore and offshore fishing available. Inshore you might catch Red Snapper, Grouper, Bone fish and Tarpon and offshore Blue Marlin, Mahi - Mahi, Tuna, King Fish and even Shark! Captain, fuel, bait, tackle and equipment included. Water's Edge Sports participates in local tournaments like the Bastille Day Kingfish Tournament where they won the Grand Prize in 2007. Half day special, $500! Call for more information and to book your trip.

Hookin N Crookin
Featured Fishing Charter
(340) 643-7222
Hookin N Crookin and Caribbean Ruhls were built for fishing! Whether it's inshore for grouper and snapper; or offshore for mahi, tuna, wahoo, and marlin - let us take you there. Hookin N Crookin is a 30' Luhrs and Caribbean Ruhls is a 30' Master Marine Moonie, both are equipped with state of art electronics and sonar. Charters are half day (4 hours) to full day (8 hours). Pricing varies depending on the excursion. Charters include rods, reels, tackle, bait, bottled water, fuel, lobster snares, spear guns, captain/crew, and great memories! Stop by our kiosk in American Yacht Harbor, give us a call or visit our website.
Peanut Gallery Charters
Featured Fishing Charter
(340) 642-7423
Are you ready to catch some fish and some memories! Captain David of Peanut Gallery Charters is enthusiastic about fishing and about helping you have a great time. Peanut Gallery is a 26' Prowler Custom Cat Sport Fishing boat and it is designed for your comfort and enjoyment. Charters are available for light tackle inshore sport fishing and deep sea sport fishing. Visiting by cruise ship; special packages and pick up at the cruise ship dock are available. Snorkeling and beach hopping can be incorporated if interested. For more information contact Peanut Gallery today.

Black Pearl Sportfishing
Featured Fishing Charter
(340) 775-9982
Black Pearl Sportfishing Charters is a legendary world class, award winning St. Thomas and St. John sport fishing charter boat and is one of the top three St. Thomas fishing charters in the Virgin Islands and Caribbean. Offering daily USVI and BVI fishing charters, Billfish and Marlin Tournament fishing, and custom fishing trips for over 25 years, for serious fishermen to family friendly charters, leaving from St Thomas in Red Hook or St John in Cruz Bay. Black Pearl is professionally equipped and fully licensed and has been fishing around St Thomas St John, Virgin Islands and Caribbean experiencing the best deep sea fishing inshore and offshore, everywhere from the famous North Drop located in the BVI waters (for the Big Blue Marlin) to the South Drop for some Wahoo Tuna Dolphin (mahi) and all points in between - get ready for TIGHT LINES!!

About Time Charters
Featured Fishing Charter
(340) 779-9028
(340) 227-5114
Thinking about a charter with a top sport fishing guide for some Tuna, Wahoo or Marlin? About Time Charters! We have 25+ years experience and look forward to helping you get that catch! About Time, completely refurbished and re-powered, has an air-conditioned cabin for your comfort and new diesel power means we spend more time fishing and less time getting there. Charters from 2 hours to full day: inshore, deep-sea or just plain fishing. Rates are the most competitive you'll find. We'll bring tackle & bait, you bring hopes of a big catch; together we'll have a great time!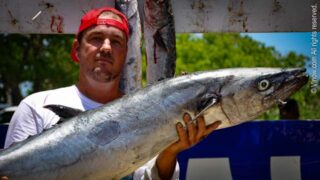 Fishing charters in St. Thomas include inshore, offshore and marlin trips. A few charters offer trips starting at 2 hours, however the most common are ½ day trips (4 hours, typically between 8am and noon, or 1pm and 5pm); ¾ of a day (6 hours); full day (8 hours); and Marlin trips (10 hours, usually 7:30am to dusk). Short trips are generally inshore fishing only. Boat capacity of 4 to 6 passengers is common. Rates for fishing charters varies depending on length of trip, size of boat, inclusion of fuel in the rate versus fuel being a surcharge, and differences in services and equipment provided. Fishing charters generally have the details of their trips listed on their websites or can provide the information by email or telephone upon request. Explore your options; book a fishing trip and a have a great time!
Want to eat what you catch? Guests can generally request some of their catch, for example up to 20 lbs, the remainder stays with the boat. If you are interested in keeping some of your catch to take back to your vacation rental to cook be sure to ask about it. If you are staying in a hotel you can ask the captain for suggestions of restaurants close to the marina that will cook your catch for you!