The Grand Turk Cruise Center is a world-class, beach front cruise facility nestled among nearly 18 acres of landscaped grounds. The cruise center's location and the island's geography offer vessels a safe approach and berthing year-round. The walk from the berthed ships to the cruise center is approximately 390 ft.

At the cruise center guests can swim in the sparkling ocean waters or in one of the largest swimming pools in the Caribbean, stroll along the idyllic beach, relax in a complimentary chaise lounge on the beach or around the pool or rent a private poolside cabana for the day.
Clam shell shade for the beach chairs, floats, and snorkeling equipment are available for rent at the Beach Rental Hut centrally located on the beach.
Snorkelers can explore several sunken Reef Balls that tend to attract fish and see a few 18th century cannons and anchors that are in submerged in front of the Beach Rental Hut at the cruise center.
Also, within the complex is the Grand Turk FlowRider surfing attraction. Offered as a shore excursion through the cruise lines, the FlowRider surfing attraction is the only of its kind located in a cruise facility. The attraction operates by utilizing a pair of high pressure wave, that produce two-to three inch layer of water moving over a pre-formed and cushioned surface at high speed. Participants can enjoy the thrills on a body board or experienced snow boarders and surfers can try the more challenging stand-up riding. Spectators are also sure to have fun watching their fellow guests ride and most likely wipe out on the FlowRider. The Grand Turk FlowRider® is a dual sided self-contained water attraction that provides perfect conditions for bodyboarding, kneeboarding or stand-up riding on an artificial wave. The wave is created by a series of high pressure water jets that produce a thin layer (approximately 2-3 inches) of water moving over a pre-formed and cushioned surface at high speed.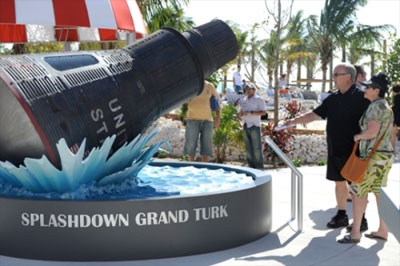 Splashdown Grand Turk is a 3,500-square-foot attraction celebrating the unique relationship of the American human spaceflight mission and its importance to Grand Turk's history. Located on the south side of the Grand Turk Cruise Center, the free exhibit features amazing replicas unique to the Mercury space program, including a scaled 20-foot-tall Atlas rocket and a full-size, three-dimensional replica of astronaut John Glenn in spacesuit, and, of course, a detailed replica of the Friendship 7 capsule, which splashed into the Atlantic in 1962, a few short miles from the island of Grand Turk. Storyboards at the exhibit depict the accomplishments of the NASA space program and detail the differences in space equipment of yesterday and today while offering an overview of the current space program and future plans.